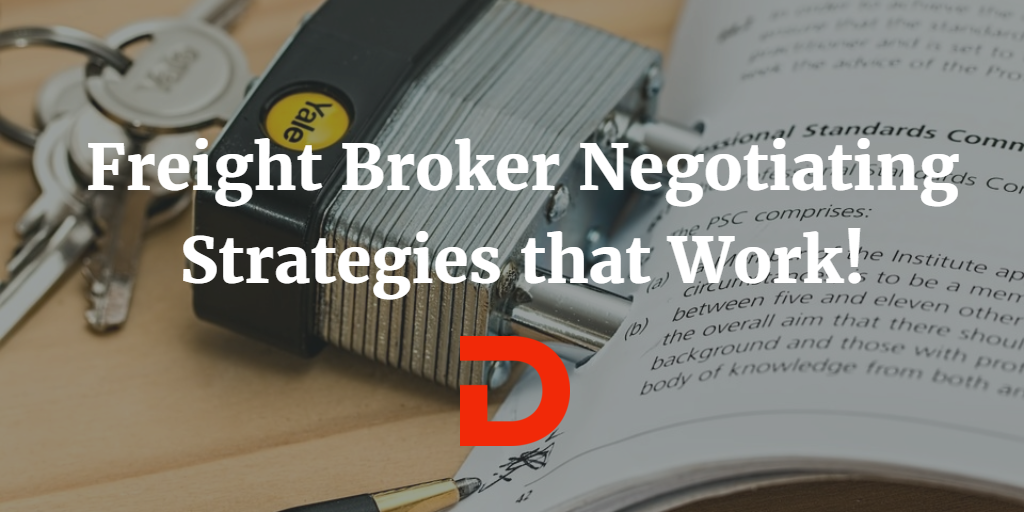 You found a load on a load board that meets your business requirements.  The next step is contacting the broker to negotiate the freight rate. Rates listed on load boards are rarely "all-in". "All-in rates" cover the hauling cost as well as assessorial fees and fuel surcharge. Brokers generally offer lower rates because that is how they make money. Do not be afraid to ask for a better freight rate, especially if it is good for your business. But don't just pull a number out of a hat either. Be smart about your negotiations by paying attention to market trends and broker information.
Know Your Operating Cost
Before doing anything, you need to know how much it costs to run your business. Keep this amount in mind when looking at freight rates. Generally, accepting rates below your operating cost can hurt your operation and may even put you out of business.  Do not be afraid to turn down low paying freight.
Pay Attention to the Drop-off Location
Some areas have reputations for low-paying freight. For example, getting good rates going into Florida is easy; getting those same rates coming out is a different story. If you know you probably won't get a great rate on your next load, you can prepare. Negotiate a higher rate going into the low-paying area to help cover the cost of getting out. Be careful about hauling into low-paying areas too often. Low paying freight is still risky.
Identify the Load-to-Truck Ratio
Pay attention to the number of posted trucks in your lane. They are going to want the same loads you do and influence the truck demand in your pick-up area. If there is a large number of loads and a small number of available trucks, you have room to negotiate a higher rate because your truck is in high demand. Low rates happen when there are not enough loads to go around. You can check the number of posted trucks with a quick search on your load board.
Look Up the Average Spot Rate
Load boards generally post the average spot rate for a particular load. Does the rate listed fall within the average? Remember, do not be afraid to turn down low paying freight. If the rate is low, see if the broker will come up in price.
Mark the Load's Times
Time has significant influence over freight rates. The longer a load remains on a load board, the more anxious a broker will be to find a truck. Use this to your advantage to negotiate a higher rate. Also, consider the pick-up time. If there is a small window between when you found the load and the pick-up time, the broker may be more willing to negotiate. The drop-off time is also influential. In light of the ELD Mandate, truck drivers are keeping a closer watch on their Hours of Service (HOS). Does the drop-off time and location give you enough time to work safely with the HOS? All of these factor into the freight rate.
Ask about Fees
Some lanes are more expensive to run than others. Find out of there are any tolls along your route. Do you need special permits to haul the load? Will you be required to pay dock or lumper fees? Is the shipper or receiver known for long detention times? Will the broker honor an accrued detention rate (usually this means the broker needs to accept, sign, and send back a revised rate confirmation)? Is the fuel surcharge covered in the rate? Ask about fees and make sure they are covered in the rate.
Get Everything in Writing
Before hauling any load, get the complete and signed Broker and Carrier agreements. You also need a signed Rate Confirmation. The broker is not obligated to pay you if there is not a signed Rate Confirmation.
Verify the Broker and Shipper Information
Run a credit check on the Broker's and Shipper's information. Make sure you are hauling for an actual company and look out for scams. Hauling for a fraudulent company can put you out of business. You also want to know the broker's average days-to-pay. If you cannot wait out their pay terms, you may want to look into quick pay or factoring.
When negotiating freight, ask questions. You are the only one looking out for your business, so make sure you are hauling loads that will make your business successful. Do not be afraid to negotiate. The worst that can happen is the broker says "no" and you go back to the load board. Nevertheless, this may be the smartest decision for your business.