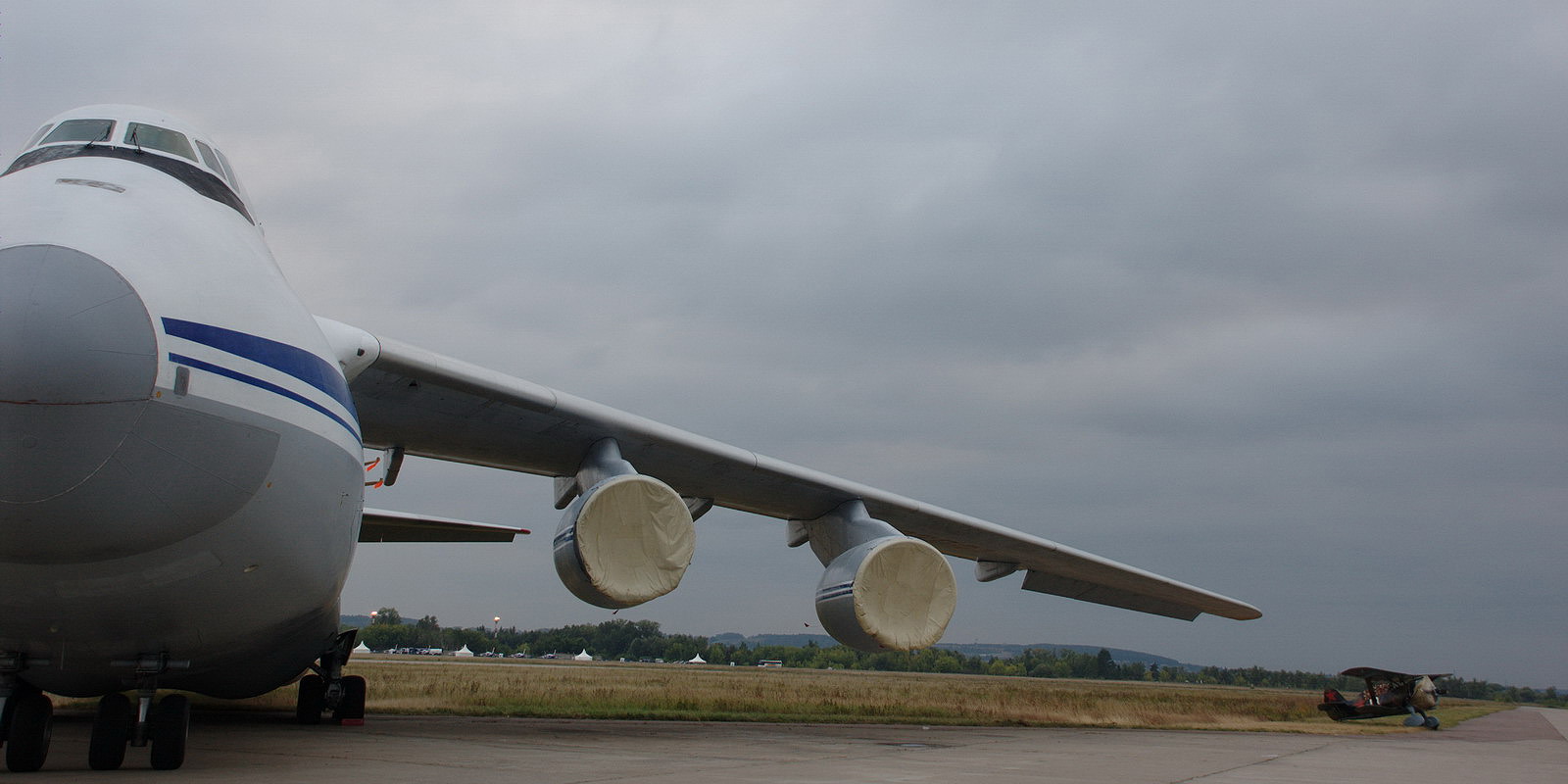 GERMANY - KUWAIT - Volga-Dnepr Airlines completed the urgent delivery of a 57-tonne generator rotor from its manufacturing site in Germany to Kuwait on behalf of Siemens using one of their An-124-100 freighters to ensure the 11-metre long cargo reached its destination on-time. Steve Downing, Head of Logistics UK, at Volga-Dnepr, said:
"We have carried shipments for Siemens regularly over many years but there is no doubt that the development of our engineering and logistics services for very heavy, outsize and complex cargoes has reinforced our relationship because it has extended our capability to a total delivery solution when required."
EUROPE - MEDITERRAEAN - Specialist boat shippers and bespoke logistic providers Peters & May have announced their Mediterranean schedule for this summer's sailings.
The Northbound routing will involve the MV Lifter starting in Istanbul 5th - 25th July. Calling into Fethiye, Turkey; Lavrion, Greece; Split, Croatia; Malta; Nice, France; Palma, Spain; Gibraltar; Southampton, UK; Antwerp, Belgium; and Bremerhaven, Germany.
The Southbound route will feature the MV Normed Antwerpen starting in Bremerhaven 10th - 20th July. Calling into Antwerp, Southampton, Gibraltar, Palma, Nice, Malta, Split and Istanbul.
QATAR - SWEDEN - Worldwide Flight Services (WFS), the world's largest air cargo handler, has won a three-year contract to provide cargo handling for Qatar Airways in Stockholm. The airline operates 13 direct flights a week between the Swedish capital and Doha. WFS, which was awarded the contract following a tender process, expects to handle some 12,000 tonnes a year for Qatar Airways at its cargo centre at Stockholm Arlanda Airport, which opened in 2012. Marc Claesen, WFS' Regional Vice President, said:
"We are delighted to now be working with Qatar Airways at our two hubs in Scandinavia and at other WFS stations in Europe. Winning this contract proves the value and strength of the WFS network, which helps us to build growing relationships with major airlines based on the high quality of our safety, security and service performance."
FINLAND - Konecranes has donated a total of '200,000 to Aalto University in Helsinki, Finland. The donation is split in two parts, one is designated to the field of science and technology, and the other part is focusing on business and economics. Panu Routila, Konecranes President and CEO, said:
"These donations are a continuation of our earlier cooperation with Aalto University. Technology is shaping the future like never before and companies need to find new talented employees to secure this development. With these donations we want to support education offered by the university to students. We believe high-quality university education is one of the most important success factors of today's and future businesses."
Konecranes and Aalto University have recently been cooperating within the area of Industrial Internet with Konecranes installing a CXT NEO smart crane on the Aalto University Internet Campus in Otaniemi, Finland, for the students to do product development work and research.
UAE - DP World has partnered with LEGOLAND Dubai, to present the theme park's Boating School and Sea Port attractions as the exclusive 'port terminal' sponsor. Boating School offers children the opportunity to captain their own boats and Sea Port is a themed playground island where they can climb and roam structures to experience the workings of a port.
The five-year agreement aligns with DP World's Global Education Programme, which aims to raise awareness about the maritime sector, trade and logistics, and related career options. With business units in 14 countries already delivering the programme to local schools, the aim is to reach out to 34,000 young people globally by 2020. DP World Group Chairman & CEO Sultan Ahmed bin Sulayem, said:
This is a great opportunity for us to reach out to future leaders. Through education and teaching children about trade, we encourage involvement in our industry for the long term. Our industry is changing rapidly and the application of new technologies means there are a variety of new types of jobs available.
"Today, driverless cars, drones and automated quay cranes driven by joysticks in a control room are used in our operations and skills to tackle subjects such as big data, the internet of things and robotics will also bring about change. These are exciting times for young and adventurous minds to begin understanding our sector and thinking of their future careers."
US - IT developer Doft has announced a formal partnership with trucking company, VHI. Doft is developing technology which instantly matches freight shippers and truck drivers with the help of a mobile app. Its partner, VHI Transport, is one of the oldest professional freight brokerage and logistics company in the country, founded 40 years ago. Dmitri Fedorchenko, Doft's CEO:
"For us it's very important to have such a professional partner in the trucking space. VHI Transport has been working with motor carriers and shippers for years now and they are now sharing their valuable experience with Doft".
VHI founder David Gee stated the importance of the relationship for remaining competitive:
"Doft is bringing disruptive technology into trucking and the VHI team will be the first one to adopt it. For VHI it is very important, we must keep up with the times."
US - Transportation and logistics provider Schneider has been cited by Forbes magazine as one of the best employers in America, with Schneider landing on its list of top 500 large companies.
To determine who made the list, 30,000 American workers were surveyed about their employers. Among other questions, the survey asked how likely a person was to recommend his or her organization to friends or family on a scale of zero to 10. The results of that question were the most important factor in deciding a company's rank on the list. Steve Matheys, Schneider's EVP and chief administrative officer, said:
"It's our valued associates who make Schneider such a great place to work, and we're honoured to be recognised by Forbes."
US - ETHIOPIA - Ethiopian Airlines announced a commitment to purchase two Boeing 777 Freighters at the 2017 Paris Air Show, valued at $651.4 million at list prices. Tewolde GebreMariam, Global CEO of Ethiopian Airlines, said:
"Building one of the largest cargo terminals in the world and operating new-generation, high-performance aircraft reflects our commitment in expanding and supporting the exponentially growing imports and exports of our country in particular and the African continent in general. The commitment to purchase two 777 Freighters is expected to boost the Ethiopian Cargo & Logistics Services."
The 777 Freighter, the world's longest-range twin-engine freighter, is based on the 777-200LR (Longer Range) passenger airplane and can fly 4,900 nautical miles (9,070 kilometres) with a full payload of 102 metric tonnes (102,000 kg).
UK - Automotive cleantech firm AVID Technology has invested over $1 million (US$1.27m) in the expansion of its manufacturing capabilities at its headquarters in North East England. A market leader in the design and manufacture of electrified powertrain systems for the electric and hybrid vehicle industry, AVID's investment in a state-of-the-art electronics surface mount (SMT) manufacturing facility and new test equipment is set to increase production of automotive electronics and powertrain technology, and enable the company to diversify into the robotics and power generation industries. Ryan Maughan, Managing Director of AVID Technology Group, explains:
"Our strategy is to increase turnover to $50 million (US$63.4m) in the next 3-5 years as a specialist supplier of technology for electric vehicles, robotics and industrial electronics by growing our presence in the field of systems electrification.
AVID's core expertise is the design of power electronics and motors used in electric and hybrid vehicle powertrain systems, such as pumps, fans and more recently propulsion. The company's knowledge and pioneering technology is used by manufacturers of heavy duty and high performance electric, hybrid and fuel cell vehicle powertrains.
UK - At an award ceremony in London, the Treasury Today Group recognised Kuehne + Nagel's fully integrated invoice-to-cash platform as highly commended winner in the category "Best Trade / Supply Chain Finance Solution." Roger Sutter, Group Treasurer Kuehne + Nagel Management, commented:
"Together with our e-invoicing partner Tradeshift and our key relationship bank Citi, we developed a fully integrated, one channel and seamless invoice-to-cash platform. It is complemented with an accelerated supplier payment feature in the form of a receivable purchase option."
Treasury Today noted:
"Our decision to award Kuehne + Nagel's solution was based on a combination of factors such as; the current geographical scope of 11 European countries as well as Canada, Mexico and the US, with plans to extend globally; an effective early payment solution combining the banking partner Citi with the Tradeshift platform leveraging its e-invoicing solution; impressive working capital benefits; ERP integration opportunities; and, a win-win situation for all parties."
BURMA - Ceva Logistics has opened an office in the Burmese capital, Yangon. Bruno Plantaz, Ceva's Managing Director Mekong cluster, said:
"Myanmar is a country with real opportunities for growth. It has a population of some 55 million people who are looking to companies like Ceva to provide supply chain services to support their developing business and meet their requirements. In the past, the country infrastructure has always been a limiting and inhibiting factor but with our global network and more importantly, our experience in emerging markets, especially in the region, we are confident that with our own office and robust IT offerings we can deliver options and solutions to the market and at the same time grow our commercial footprint."
Source: Handy Shipping Guide