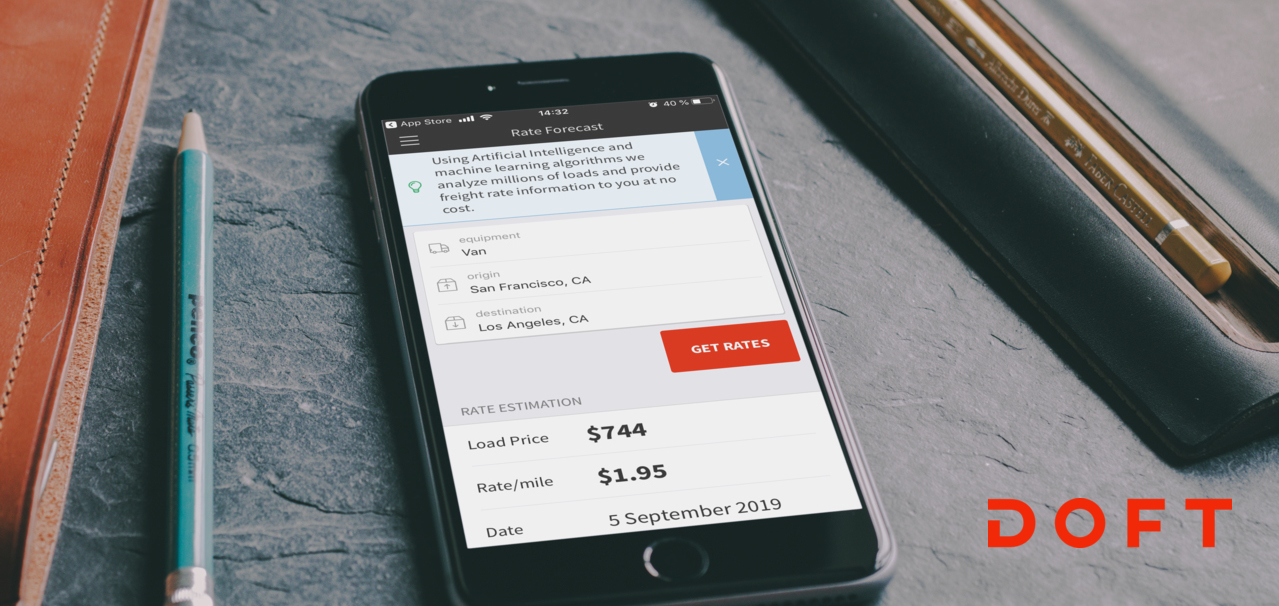 Doft has announced the release of Rate Forecast powered by Artificial Intelligence rate prediction, a rate platform that allows customers to use market data and their rate history to make quick and data-driven decisions on their shipping rates.
A cloud-based solution powered by Doft's freight matching marketplace, Rate Forecast charts data on paid rates from across the marketplace, with rate data from Doft's ecosystem and third-party partnerships with industry leaders.
Rate Forecast is an indispensable product for anyone involved with moving freight within the transportation industry. It allows you to analyze the market rate of any lane and acts as a comprehensive platform with rate history and rate sources, enabling pricing on quick quotes to deep analysis on large RFPs, benchmarking, forecasting and business strategy.
Using big data technology and machine learning, Rate Forecast delivers real-time data and returns bulk analyses of tens of thousands of lanes in minutes.
Doft is an online freight-matching marketplace that also provides rate benchmarking, spot market data and negotiation tools. 
What is Rate Forecast?
Rate Forecast is a tool that provides transportation professionals with the average rate a load will pay per mile. Rate Forecast add-on allows carriers to quickly:
Research and compare industry price averages before accepting offers
Negotiate prices and better estimate your load revenues
Review and compare average rates at a low cost.
Rate Forecast is available under the Rate Forecast menu as an individual tool acting as freight rate calculator and in the load search results.

Rate Forecast – Freight Rate Calculator
Rate Forecast in Load Search Results