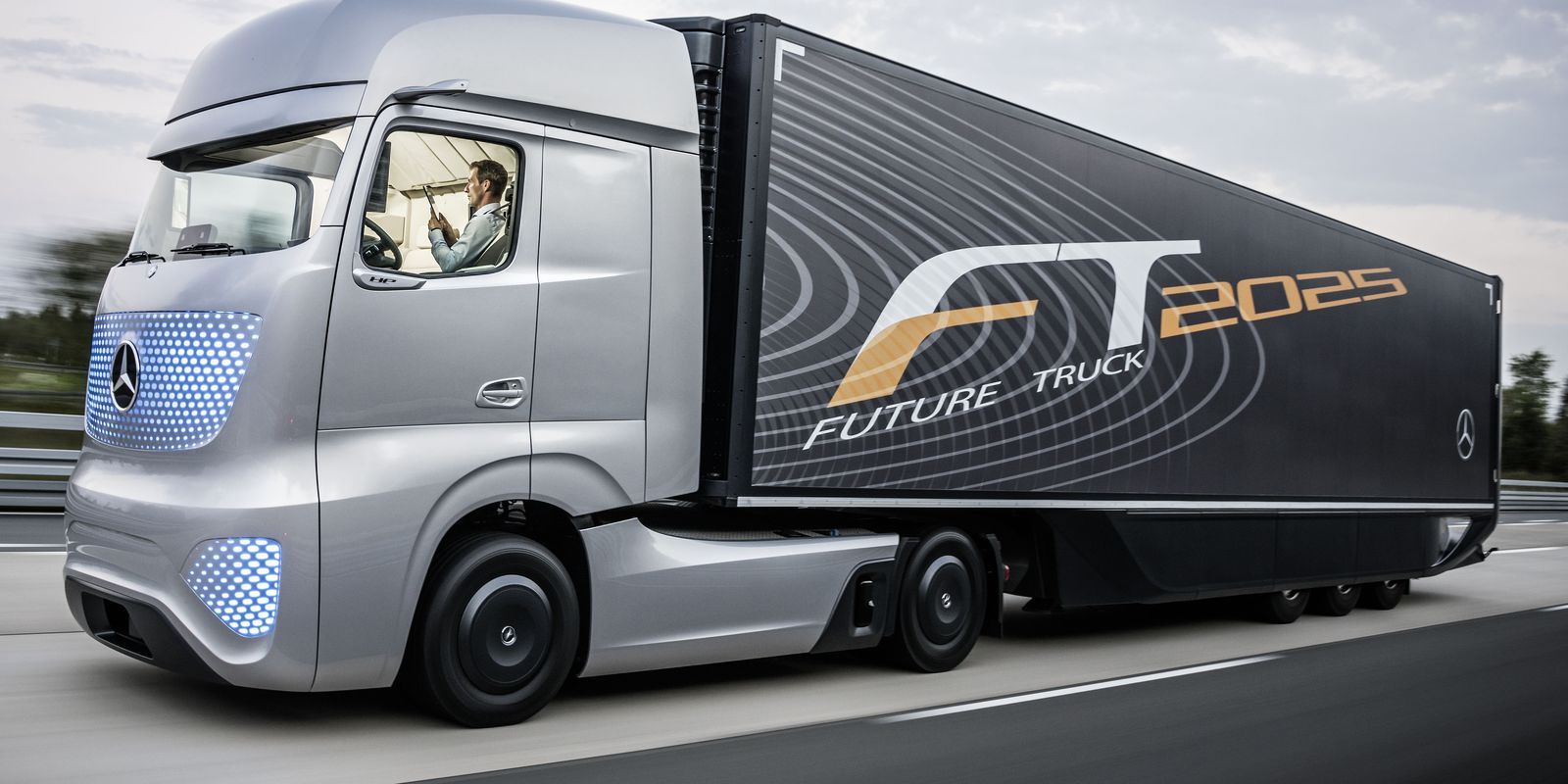 Autonomous technology will likely alter the way commercial vehicles are designed from the inside out. The changes will facilitate drivers - who now have a single function while on the road - to evolve into operators and managers, expected to multitask from behind the wheel.
Some automakers are already mapping out the future. Mercedes-Benz, a division of German auto manufacturer Daimler AG, and Italian car and truck maker Iveco, released concept art hinting at how vehicles might change if no driver is required.
Mercedes-Benz's Future Truck 2025 concept demonstrates several potential benefits of vehicles designed for autonomous driving. When operating in a mode dubbed Highway Pilot, the vehicle drives independent of a driver. In this self-driving setting, occupants are able to turn their chairs away from the dashboard and focus on other tasks.
Mercedes - concept also features a conventional steering wheel as well as an on-board tablet used for trip navigation and to monitor the freight stored in the trailer, which is loaded on smart pallets.
When Highway Pilot is activated, driving becomes a secondary task for the trucker. (Photo: Mercedes-Benz)
Iveco also introduced an autonomous vehicle concept, known as the Z Truck, to explore multiple ideas for potential deployment. The vehicle uses a natural gas engine to reduce emissions, active and preventive safety systems to mitigate accidents and platooning technology for improved safety and efficiency.
Martin Flach, alternative fuels director for Iveco, told Trucks.com that the external design is more rounded in shape, unlike "the brick wall" currently in place for virtually all commercial vehicles.
"This is a much more rounded front," Flach said.
Both trucks offer rotating seats designed to improve driver comfort, but also contribute to greater productivity. The self-driving trucks of tomorrow will likely include a mobile office that allows drivers to perform other tasks while the vehicle is moving, said Bryan Flansburg, president of NAFA Fleet Management Assn.
"I envision that the co-pilot seat would be more of a mobile office," Flansburg told Trucks.com.
Plumbers and electricians, for example, could complete work orders while commuting so they are ready to go when they arrive on site.
"And while you're moving from that job to the next, you're back at a computer desk ordering parts, restocking, billing your customers - everything as you move down the road," he said. "My feeling is it's going to be an evolution."
"When pilots switch to autopilot [in an airplane], they still have a seat behind the wheel," Flansburg said.
Autonomous technology could help reduce some of the pain points caused by long commutes. Health and wellness monitoring is going to be an essential part of self-driving trucks, said Sandeep Kar, global vice president of mobility for market research firm Frost & Sullivan.
There will "be health monitoring systems that detect air pollution in the cabin and provide pollen alerts," Kar told Trucks.com. "Seats that monitor health signs, such as blood pressure and stress. And steering wheels that detect a driver's pulse, oxygen saturation and perspiration."
The mobile office will also need connectivity to help drivers pass time, said Bob Williams, president of the National Conference of State Fleet Administrators.
"When you take away the requirement to operate the vehicle, then the driver is just sitting there with nothing to do," Williams told Trucks.com. "They're going to fill that time with interaction on their mobile device, phone or tablet, or they're going to be doing something for their job".
Autonomous trucks also could reduce the ongoing driver shortage that plagues the industry. Instead of eliminating drivers altogether, the number of drivers that may be required for each vehicle will be reduced from two to one, he said.
"There are hours of service restrictions," Williams said. "A driver can only drive for so many hours a day by federal law, and then he has to sleep."
With autonomous technology, the truck itself could pick up the slack when a driver is fatigued. The technology would also drive down operation costs, and any savings accumulated could be applied to compensation incentives to retain drivers, he said.
Trucks equipped with more luxurious interiors may also lure new drivers. With manufacturers paying special attention to enhancements on the inside, fleets could leverage new designs to retain driver talent.
Some of the changes are already happening. Daimler's redesigned 2018 Freightliner Cascadia features improved door seals to reduce interior noise, more comfortable seats and a redesigned living space.
One configuration comes with a two-seat dinette, a Murphy-style bed, ambient LED lighting and multiple power options for electronic devices. There's a larger mounting area to handle a 26-inch flat screen TV and bigger storage and appliance options.
"I think what's going to happen is very similar to what's happened in the sales force industry," Flansburg said.
"Pharmaceutical vehicles have gotten fancier and fancier to attract the best sales people. The amount of over-the-road truckers and Class A drivers that are needed is tremendous, and anything they can do to entice a driver is helpful," he said.
Leather seats and touch-screen controls are just the beginning, and it is not out of the question to think that larger TVs and persistent Wi-Fi Internet access will be offered, Flansburg said.
"And even a Sleep Number bed in the back [because drivers] are going to go where they get the best bang for their buck," he said.
But all the interior features could distract vehicle occupants. If driver intervention is required, alarm systems will be used to redirect attention, Williams said.
These types of safety alerts are not unlike the advanced systems used in the newer trucks on the market. Volvo Trucks - new 2018 VNL, which will go into production next month, offers an advanced safety package as standard equipment. The system has a camera and radar-based system that combines forward collision warnings and active braking and can spot and react to stationary vehicles.
Not all trucks are likely to evolve with the arrival of autonomous technology, said Mario F. Guzman, city fleet manager for West Palm Beach, Fla. Guzman manages a number of vocational fleets for the city, including sanitation trucks, which are designed for one purpose.
"With this kind of union blue-collar work, it's a different animal altogether," Guzman told Trucks.com. "It's not writing emails and doing reports."
His operators are focused on a specific job and don't necessarily need to perform other tasks while inside the vehicle, he said.
Dump trucks, which tend to have just one function - hauling dirt from one location to another - and require only one driver, might benefit from an autonomous upgrade and enhancements to the cab. With self-driving features employed, personnel could focus on other things from the cab, Guzman said.
Guzman, who was a member of NAFA's public safety group comprising specially skilled fleet managers that work with law enforcement, fire rescue and emergency services, said he believes similar interior changes to autonomous ambulances could change the future of healthcare,
"Here in South Florida, we have a three-man crew: two working on the patient and [one] driver," he said. "That driver is also a medic. If you have automated rescue units, you've essentially increased your resources, your personnel."
Emergency vehicles could also take cues from the Z Truck's extendable cab concept.
"When you're driving, you shorten up the cab," Flach said. "When you're resting, you lengthen the cab to make more space for the sleeping area."
Allowing drivers flexible cargo space outfitted for more complex life-saving procedures could be a game-changer for patients and medical pros.
"That would be phenomenal," Guzman said.
Source: Trucks.com